Burns Charest to Investigate Claims of Private Property Flooding Caused by Interstate Highway Design, Construction, and Operation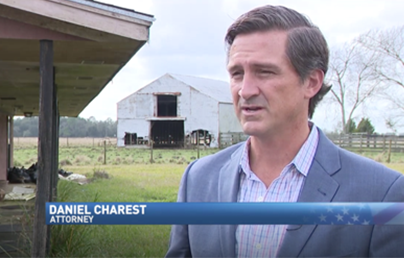 Burns Charest and co-counsel are evaluating claims of private property flooding in the Houston area along I-10 as a result of the highway's design, construction, and operation. During the heavy rains of the past few years, citizens have seen devastating flooding as highway barriers function as dams and hold water on the north side of the Interstate. The retained storm water has flooded ranching and farming areas, killing livestock, destroying pastures, and inundating residences and businesses. The flooding also affects property values along the I-10 corridor. Citizens with property along the highway have asked Burns Charest to evaluate their rights and, as appropriate, take legal action.
For more details, view this interview on KFDM with affected property owners and Burns Charest partner Daniel Charest.
If you have been affected by flooding that may have been caused by the Texas highway system, please contact Burns Charest via the following link www.highwayfloodtexas.com or by email at highwayfloodtexas@burnscharest.com or by phone at 1-888-248-5215.