Burns Charest Donates to the St. Croix Community: Play Ball!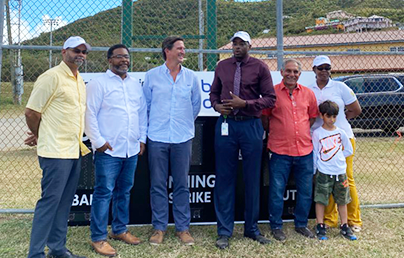 Last week, Burns Charest managing partner Daniel Charest took part in the unveiling ceremony of two new baseball scoreboards donated by the firm to the USVI Department of Sports Parks and Recreation. To support the community, these scoreboards will be installed at the David C. Canegata Ballpark and the Reinhold "Rookie" Jackson Sport Complex, both on St. Croix. These fields host games for inter-island recreational leagues, schools, and community events year-round. In addition to Charest, the ceremony at David C. Canegata Ballpark was also attended by USVI Senator Kurt Vialet, St. Croix Administrator Sammuel Sanes, and the Commissioner and Assistant Commissioner of Sports, Parks, and Recreation, Calvert White and Renee Hansen.
At the unveiling, Charest said, "Since we first arrived on St. Croix, the island has welcomed the firm and we are glad to give back to the community in tangible ways."
The USVI government representatives also offered remarks at the unveiling ceremony. For several years, Burns Charest has represented residents of St. Croix against industrial powerhouses.