Burns Charest files takings case against the State of Texas over private property flooding caused by interstate highway design, construction, and operation.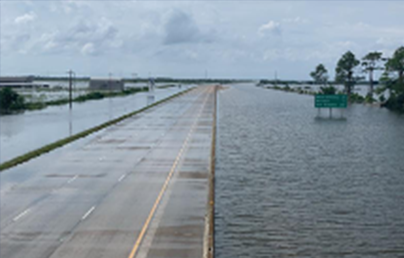 On behalf of more than 40 property owners in Chambers County, Texas, Burns Charest filed suit against the State of Texas alleging that the repeated flooding of thousands of acres of private property along IH-10 resulted from the design, construction, and operation of barriers installed by the state. The State installed concrete barriers to act as a median for safety. But during large rain events the median traps runoff water, rather than allowing the water to flow downstream, and floods private property along the North side of IH-10.
"The State knowingly and intentionally put a dam in the middle of a highway that runs across natural water flow," says Burns Charest partner Daniel Charest. "By design, the properties on the north side of Interstate-10 are sacrificed, so a portion of highway on the south side could remain open. While the structure serves public purposes, like maintaining access and enhancing public safety, both the state and federal constitutions preclude the State from forcing a few individuals to bear the burden of providing those public benefits without just compensation. This issue affects many, many more people along the north side of I-10."
Texas courts have previously ruled that the government must provide compensation to private property owners for losses suffered when the State choses to provide a public benefit that leads to the damages of others without any sort of compensation. This case will also serve as one of the first tests to the State's liability to property owners under the Takings Clause of the Fifth Amended to the U.S. Constitution.
The plaintiffs' team is comprised of Daniel Charest and Larry Vincent of Burns Charest LLP, Charles Irvine and Mary Conner of Irvine & Connor, PLLC and Lawrence Dunbar of Dunbar Harder, LLC.
For information and updates about the claims or the case, victims or the public can visit https://highwayfloodtexas.com
Richard & Wendy Devillier, et al v. The State of Texas, No. 20DCV0300 filed in the 253rd District Court in Chambers County, Texas. A copy of the petition can be found HERE.