Oxford Named to D Magazine's 2021 List of Best Lawyers Under 40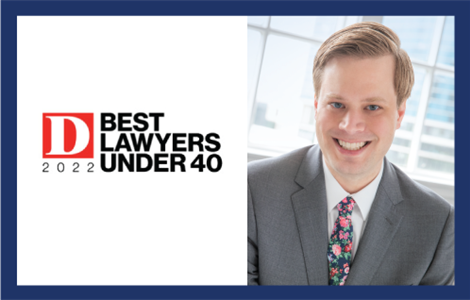 Burns Charest LLP is pleased to announce that the firm's Kyle Oxford has been named to D Magazine's elite list of the city's top young lawyers for 2021.
The annual list of "Best Lawyers Under 40" is featured in the January issue of the publication. The selection process involved contact with and nominations from more than 9,000 attorneys in the North Texas region, and an editorial review by a panel of eminent local lawyers to arrive at the list of 150 honorees.
Since graduating law school in 2015, Kyle has represented plaintiffs in all types of class actions across the country. No matter whether you're a landowner suing the largest natural gas producer for a bid-rigging conspiracy, an immigrant detained in a for-profit immigration facility run by a company illegally engaged in human trafficking and wage theft, a social media content moderator who developed PTSD, a dentist who was sold a faulty product, or just someone who thinks airplane ticket prices are too darn high, Kyle takes seriously his commitment to making sure everyone gets their day in court.
He earned his law degree with honors from Tulane Law School, where he was a Managing Editor of the Tulane Law Review, a student attorney in the Tulane Civil Litigation Clinic, and a volunteer with the Entertainment Law Legal Assistance Project. Kyle received his undergraduate degree in Political Science from Trinity University in San Antonio.
For the full list of honored attorneys visit the D Magazine website.