Burns Charest Listed Among Nation's Top Antitrust Law Firms in Annual Report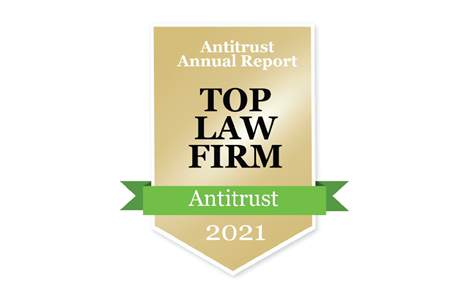 Burns Charest LLP has been recognized as one of the country's top antitrust law firms in the 2021 Antitrust Annual Report published by Huntington National Bank and the Center for Litigation and Courts at UC Hastings Law. The annual report is intended to help analyze enforcement of the antitrust laws through private class actions on an empirical basis through various categories of objective criteria. The complete report can be accessed here.
The firm received recognition for its work as co-lead class counsel in In re EpiPen (Epinephrine Injection USP) Marketing, Sales Practices and Antitrust Litigation (D. Kan.). In 2021, Burns Charest, led by partner Warren T. Burns and assisted by partners Amanda Klevorn and Spencer Cox, helped secure final court approval for a $345 million settlement with Pfizer. This settlement ranks as the second largest antitrust settlement in the nation for 2021 as well as the 24th largest antitrust settlement in the United States during the past 13 years. This year, the firm secured a $264 settlement with Pfizer in that case which, if finally approved, would fully resolve the litigation while bringing the total class recovery to $609 million. (This aggregate settlement amount is not included in this year's report, which is limited to results obtained by the end of 2021.)
Burns Charest partners also played leading roles in securing other settlements listed in the report while at their prior firms, including Warren Burns in the Automotive Parts Antitrust Litigation (End Payors) (ranked as the fourth largest antitrust settlement in the nation for 2009-2021) and Christopher J. Cormier in the Urethane Antitrust Litigation (Direct Purchasers) (ranked as the sixth largest antitrust settlement in the nation during this period).