Burns Charest Again Named to Best Law Firms List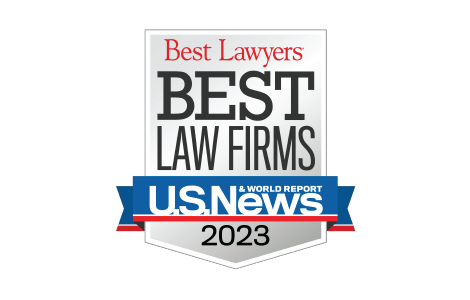 For the fifth consecutive year Burns Charest LLP has been named as one of the best law firms in the nation on the Best Law Firms list, a prestigious annual ranking distributed by U.S. News & World Report and The Best Lawyers in America.???
In the newly released 2023 edition the firm ranks as a Tier One firm in the North Texas area for antitrust litigation, commercial litigation, and energy law. This year marks the first time the firm has achieved Tier One rankings in these three highly competitive practice areas. The firm is also recognized in the guide for expertise in litigation involving intellectual property and patent disputes.?
Earlier this year five Burns Charest partners, including Warren Burns, Daniel Charest, Christopher Cormier, and Darren Nicholson were selected among the nation's top attorneys in the 2023 edition of The Best Lawyers in America. In addition, two young attorneys, partner Amanda Klevorn and associate Spencer Cox, were named to the publication's "Ones to Watch" list.?
Researchers from U.S. News and Best Lawyers evaluate thousands of responses from law firm clients to develop its annual listing. The final results are revealed in the Best Law Firms publication and available online at http://bestlawfirms.usnews.com/?