Burns Charest Enters Appearance for Antina Ranch in Pollution Fight with Chevron and Others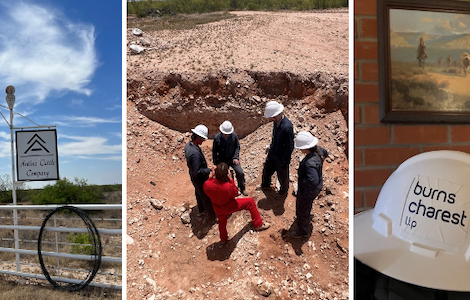 Firm co-founder, Daniel Charest, leading a team of Burns Charest attorneys, has entered an appearance on behalf of USMC veteran and dedicated West Texan, Ashley Watt, to defend and protect the Antina Ranch, as 22,000-acre property in Ward and Crane Counties, Texas. With recent observations of subsurface materials appearing on the surface in and around the locations of purportedly plugged-and-abandoned wells, Watt sued Chevron USA and several Chevron farm-out partners to re-plug the wells, address the pollution, and protect the natural beauty and value of the Antina Ranch. The images below are from the Burns Charest visit to the Antina Ranch.
Charest commented on the case and the issues at hand: "Oil companies extract massive profits from ranches like this throughout Texas and well beyond. Those companies should protect these same locations from pollution due to poor plugging. When wells start expressing materials from below the supposedly-plugged depths, the oil companies need to take responsibility. Burns Charest is proud to protect the rights of landowners in the effort to preserve and defend their land, their homes, and their rights."
The case is Ashley W. Watt, et al. v. Chevron U.S.A., et al., No. 22-052-DCCV-00075, in the 109th Judicial District, Crane County, Texas. A link to the live petition is here.