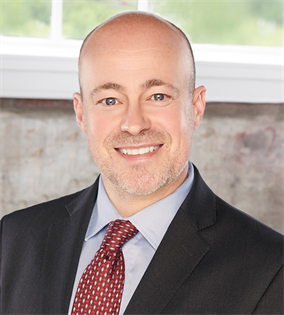 Following a competitive selection process, I retained Chris to represent me as the liquidating trustee of a bankrupt energy company in high-stakes litigation. I'm glad I did. Through his hard work, strategic vision, and consistent communication, I secured a favorable resolution in a timely and efficient manner.
I look forward to working with him again.
Thomas Minick
Managing Principal of Commenda Capital
Based in Washington, DC, Chris has substantial experience successfully litigating and trying complex, high-stakes cases. He has obtained more than $1.5 billion in verdicts and settlements for clients in federal and state courts across the country.
Quoting feeback from peers and clients, one leading legal publication notes that "Chris is a considered, careful, but relentless advocate" who "is quick on his feet and not afraid to get down into the weeds" and a "great co-counsel," while another states that he is "lauded as 'an excellent competition plaintiff lawyer' who is regularly engaged in high-value antitrust proceedings before state and federal courts." He repeatedly has been named to the Lawdragon 500 Leading Plaintiff Financial Lawyers guide and the Lawdragon 500 Leading Plaintiff Consumer Lawyers guide, honored as one of the top plaintiffs' antitrust lawyers in the Global Competition Review's Who's Who Legal: Competition publications, selected to the Best Lawyers in America in the areas of antitrust and commercial litigation, recognized by Benchmark Plaintiff as an Antitrust Litigation Star, and called a "Rising Star" in the field of antitrust litigation by Super Lawyers.
Chris has led and is leading the prosecution of numerous cases as court-appointed lead counsel in nationwide antitrust and consumer privacy class actions and on behalf of individual and corporate clients in high-value commercial disputes in courts across the country.
Chris moved his practice to Burns Charest in 2018 after spending the first 15 years of his career as an associate and partner at Cohen Milstein Sellers & Toll PLLC.

Comments from Courts and Clients
Chris is one of the hardest working lawyers I have ever known. The case was a complex contract case spanning 2 countries, 20 years and 2 languages. Through his dogged persistence and attention to detail he unraveled all parts of the case and understood the details of what our opponent had done. We won the case with a substantial jury verdict and judgment. I recommend Chris for any commercial case, especially if it is complex in its nature.
— George Mallon, Jr., Founder and CEO of Mallon Resources Corporation and Managing Member of GT Resources LLC
I do think the result here was remarkable. This is a case which I think a lot of experienced class action antitrust lawyers turned their back on, others who decided they'd rather do it their own way, and this group of lawyers stuck with it, built this case… This was a matter of the jurors being persuaded by the presentation made at trial, based on copious preparation… And I think that the result in this case in the end was truly exceptional.
— Hon. John Lungstrum, U.S. District Judge, District of Kansas, In re Urethane Antitrust Litigation (July 27, 2016 Hearing)

I've heard how counsel have performed, how thoroughly and faithfully and zealously they represented their clients and sought a fair and reasonable outcome…. And that's important to have skilled counsel. That makes all the difference…. I think counsel can feel very good about themselves professionally, that they've served their clients well.
— Hon. Anne Thompson, U.S. District Judge, District of New Jersey, In re Ductile Iron Pipe Fittings Direct Purchaser Antitrust Litigation (May 10, 2018 Hearing)

I was sincere when I said I think both sides have received excellent legal representation in this case.
— Hon. Harry Mattice, Jr., U.S. District Judge, Eastern District of Tennessee, In re Cast Iron Soil Pipe and Fittings Antitrust Litigation (May 23, 2017 Hearing)

I can see why you are a successful attorney. Many of our outside law firms take us for granted a bit and don't communicate regularly so I appreciate this…. It is nice to work with people in whom I have such confidence.
— General Counsel's office of the University of Utah Health System
Education & Background
American University Washington College of Law, J.D., magna cum laude (Top 10%), 2002
University of Virginia, B.A., 1999
Intern, Hon. Deborah K. Chasanow, U.S. District Court for the District of Maryland, 2000
Intern, National Criminal Enforcement Section, Antitrust Division, U.S. Department of Justice, 2001
Admissions & Honors

Recognized in the National Law Journal's Top 100 Verdicts of 2022: https://images.law.com/media/nationallawjournal/supplements/TVS_NLJ_2022/index.html#p=15
Best Lawyers in America - Antitrust Litigation (2020-2024)
Lawdragon 500 Leading Plaintiff Financial Lawyers (2021-2023)
Lawdragon 500 Leading Plaintiff Consumer Lawyers (2021-2023)
Global Competitions Review's Who's Who Legal: Competition/Plaintiff-Thought Leader –(2023)
Global Competitions Review's Who's Who Legal: Competition (2020-2022)
Super Lawyers - "Rising Star" in Antitrust Litigation (2016-2017)
Benchmark Plaintiff – "Antitrust Litigation Star" (2013-2015)
Admitted to practice in the U.S. Supreme Court, Colorado state and federal courts, Washington, DC state and federal courts, Virginia state court and other federal courts

Representative Cases & Decisions
GT Resources LLC v. Black Hills Corp., et al. (Colorado State Court)
As co-lead trial counsel, Chris obtained a $41 million jury verdict in Denver County District Court in April 2022 for plaintiff GT Resources against defendant Black Hills Corporation and two of its subsidiaries in connection with a squandered oil and gas concession in Costa Rica. In issuing one of the largest verdicts in the state and one of the 100 largest verdicts in the nation in 2022, the jury found that the actions of one subsidiary violated the duty of good faith and fair dealing owed to plaintiff under the relevant contract and that the parent company and the other subsidiary interfered with the plaintiff's prospective business advantage. Chris examined and cross-examined multiple key fact and expert witnesses, handled significant evidentiary arguments, and played a leading role in forming and executing the trial strategy. (Defendants have appealed the judgment.) For a summary of the trial and related press coverage, please click HERE.
In re Plaid Inc. Privacy Litigation (N.D. Cal.)
Chris serves as co-lead counsel for a proposed nationwide class of consumers alleging that fintech company Plaid violates consumer privacy and computer data protection laws by collecting consumers' sensitive bank login information through software embedded in a host of apps such as Venmo, Coinbase, Square's Cash App, and Stripe. The lawsuit alleges that Plaid then uses the credentials to access and capture years of transactions and other confidential data from all of the consumers' accounts with the bank without consumers' knowledge or consent. In 2022, the court approved a nationwide class settlement providing $58 million and valuable changes to Plaid's business that, among other things, improve disclosures about Plaid and its conduct to consumers and give consumers more control over their ability to delete data on Plaid's systems.
Liquidating Trustee for the Liquidating Trust of Nighthawk Royalties LLC v. Sigma3 Integrated Reservoir Solutions, Inc., et al. (Colorado State Court)
Chris successfully represented the liquidating trustee of a bankrupt exploration and production company against an engineering firm for its alleged gross negligence in connection with oil production forecasting services the company relied upon that led to its demise. Chris led all key aspects of the engagement, including working with the client, managing discovery, drafting all pleadings through summary judgment, deposing the defendants' key employees, working with experts, and negotiating a favorable confidential settlement.

In re Urethane Antitrust Litigation (D. Kan.)
Chris was part of the co-lead counsel team for direct purchaser plaintiffs in an antitrust class action alleging a nationwide conspiracy to fix the prices of chemicals used to make polyurethane foam, a basic component of everyday products such as bed mattresses, car seat cushioning, and furniture cushioning. Four defendants — Bayer, BASF, Huntsman, and Lyondell — settled for a total of $139.5 million, while the case against the fifth manufacturer, Dow Chemical, went to trial. After a four-week jury trial, the jury returned a $400 million verdict for the plaintiffs, which the district court tripled under federal antitrust law to more than $1 billion. This was the largest verdict in the country in 2013, as reported by the National Law Journal, and is believed to be the largest jury verdict rendered for a violation of Section 1 of the Sherman Antitrust Act. The U.S. Court of Appeals for the Tenth Circuit affirmed the judgment. In early 2016, Dow ultimately settled for $835 million while the case was on appeal to the Supreme Court, bringing the total recovery to $974 million – nearly 250% of the damages found by the jury.

In re Anadarko Basin Oil and Gas Lease Antitrust Litigation (W.D. Okla.)
Chris was personally appointed co-lead counsel for plaintiffs in a class action alleging that Chesapeake Energy, SandRidge Energy, and a former executive of both companies conspired to rig bids for leases of land held by private landowners in parts of Oklahoma and Kansas. This litigation follows the U.S. Department of Justice's early 2016 indictment of a co-founder and former CEO of Chesapeake Energy for allegedly participating in this bid-rigging conspiracy. Plaintiffs allege that Defendants illegally conspired to stabilize and depress the price of royalty and bonus payments paid to landowners in the Anadarko Basin oil and gas province — a massive geological formation holding natural gas and oil deposits that includes large parts of Oklahoma and Kansas. Pursuant to this conspiracy, Plaintiffs allege that Defendants communicated about and agreed on prices, allocated particular geographic areas between themselves, and rigged bids for leases of land, lowering acquisition prices across the region and thereby harming the proposed class of landowners. In 2018, the parties signed a settlement agreement resolving the case for $7 million, which the court later approved.

In re Dental Supplies Antitrust Litigation (E.D.N.Y.)
Chris was part of the leadership team representing a proposed class of dental practices and dental laboratories. The case alleges that Defendants Henry Schein, Inc., Patterson Companies, Inc., and Benco Dental Supply Company — the three largest dental supply and dental equipment distributors in the United States — fixed price margins on dental equipment, jointly pressured manufacturers to squeeze out competitors, and agreed not to "poach" each other's employees, in violation of federal antitrust law. As a result of the alleged conspiracy, dental practices and dental laboratories may have paid artificially inflated prices for many kinds of dental supplies and dental equipment, from consumables like gauze and cement to big-ticket equipment like chairs and x-rays. In 2018, the parties signed a settlement agreement resolving the case for $80 million, which the court later approved.

In re Plasma-Derivative Protein Therapies Antitrust Litigation (N.D. Ill.)
Chris was part of the co-lead counsel group for direct purchaser plaintiffs alleging a conspiracy to reduce the supply and increase prices of IVIG and Albumin — life-saving therapies derived from blood plasma. He and his colleagues represented named plaintiff The University of Utah Health System as well as the remaining class members in this matter. The defendants were CSL Ltd., CSL Behring, Baxter Healthcare and the Plasma Protein Therapeutics Association (the trade association the manufacturer defendants controlled). Chris played an integral role in the investigation and filing of the first complaint in the country in this matter. Following numerous depositions across the globe and the filing of plaintiffs' opening class certification motion and expert report, Chris and his team obtained settlements with all defendants totaling $128 million.

In re Cast Iron Soil Pipe & Fittings Antitrust Litigation (E.D. Tenn.)
As a key member of the co-lead counsel team, Chris represented a plumbing distributor and a putative class of direct purchaser plaintiffs against the two largest soil pipe and fittings manufacturers in the country (McWane Inc. and Charlotte Pipe & Foundry) and the trade association they controlled (Cast Iron Soil Pipe Institute) in a lawsuit alleging that the defendants engaged in a nationwide price-fixing conspiracy. Following the completion of extensive fact discovery, he helped obtain a $30 million settlement from all defendants for the direct purchaser class, which the court approved in 2017.

In re Ductile Iron Pipe Fittings Antitrust Litigation (D.N.J.)
Chris played a leading role in representing a putative class of direct purchaser plaintiffs in a price-fixing case against the three largest manufacturers of ductile iron pipe fittings — McWane Inc., Sigma Corporation, and Star Pipe Products — and a monopolization case against McWane for excluding significant competition in the domestic ductile iron pipe fittings market. Settlements of greater than $17 million were approved in 2017 following the completion of fact and expert discovery and briefing on class certification.