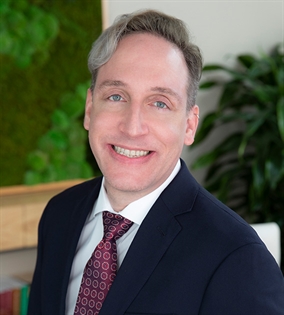 Patrick is among the best lawyers I've ever had the privilege to work with. He has the unique ability to understand and translate complicated concepts into easy explanations for lay people to understand.
Robert Jenner
Jenner Law
Patrick Murphree is a lawyer, a scholar, and a bold litigator. His quest for social justice has led to years of victories in the courtroom, not limited to class action, mass tort, and complex litigation on behalf of individuals, businesses, and governments harmed by corporate malfeasance.
Patrick's approach to the law is both scholarly and inventive—he enjoys articulating and pursuing novel theories and claims. Always thinking several steps ahead, he's prepared for every unexpected twist that could derail a case.
Before law, Patrick earned a doctorate in Theatre History and taught acting, theatre appreciation, public speaking, and test preparation. His years on the stage and in the classroom taught him the nuances of reading an audience and translating complex ideas into digestible narratives.
Patrick's passion for social justice animates him. During law school, he engaged in substantial social and racial justice work, including a lawsuit to extend voting rights to the formerly incarcerated. Since then, he has collaborated with the Gillis Long Poverty Law Center on a variety of initiatives, including developing a program to support childcare centers accessing public funding to survive the COVID-19 pandemic and serving as the editor for the 2023 update to the Louisiana Legal Services and Pro Bono Desk Manual.
Education
Indiana University, Bloomington, Ph.D. in Theatre History, Theory, and Literature
Dissertation: Comedy During the French Revolution
Loyola University New Orleans College of Law, J.D., summa cum laude
Vanderbilt University, B.A., magna cum laude, Phi Beta Kappa
Clerk to the Honorable Elizabeth Erny Foote, U.S. District Court for the Western District of Louisiana
Judicial Extern to the Honorable Greg G. Guidry, Louisiana Supreme Court
Judicial Extern to the Honorable Stephen A. Higginson, U.S. Court of Appeals for the Fifth Circuit
Admissions & Honors
State of Louisiana
Federal Courts in Louisiana
Spirit of Ignatius Award, 2017
Gillis Long Public Service Award, 2017
Faculty Member of the Year, 2011, 2012, 2013
Lawdragon 500X - The Next Generation, 2023
Best Lawyers in America: Ones to Watch, 2024
SuperLawyers Rising Stars, 2022, 2023, 2024

Speaking Engagements

American Association for Justice, Tenofovir Litigation Group (July 2020)
Tenofovir Plaintiffs' Group (December 2020)
St. Thomas More Inn of Court (January 2023)
Workplace Justice Clinic, Loyola University New Orleans College of Law (April 2023)

Publications

Moreau, Dumas, and the Authority to Interpret the French Civil Code, 32 Tul. J. Int'l & Comp. L. (forthcoming, 2024)
Louisiana Legal Services and Pro Bono Desk Manual (editor, 2023), https://probonodeskmanual.loyno.edu/

Schools in the Middle: Resolving Schools' Conflicting Duties to Transgender Students and Their Parents, 86 UMKC L. Rev. 405 (2018), https://papers.ssrn.com/sol3/papers.cfm?abstract_id=3154142
For the Least of These Brothers and Sisters of Mine: Providing Mental Health Care to Undocumented Immigrant Children, 15 Seattle J. for Social Just. 65 (2016), https://papers.ssrn.com/sol3/papers.cfm?abstract_id=3166419
Comment, Beat Your Wife, and Lose Your Gun"; Defending Louisiana's Attempts to Disarm Domestic Abusers, 61 Loy. L. Rev. 753 (2016), https://papers.ssrn.com/sol3/papers.cfm?abstract_id=3166446
Excerpted in the leading casebook on domestic violence law.
Note, All in the Family: Assessing the Definition of "Family" in City of Baton Rouge/Parish of East Baton Rouge v. Myers, 61 Loy. L. Rev. 407 (2015)
Patrick's Theatre History publications and presentations are available at https://www.researchgate.net/profile/Patrick_Murphree

Memberships

National Lawyers Guild
Law For Black Lives
St. Thomas More Inn of Court
American Association for Justice
Loyola Law Review Alumni Advisory Committee
Representative Cases
Gilead Tenofovir Cases (Cal. Super. Ct. San Mateo Cty.) (pharmaceutical mass tort)

Invitation to join the Plaintiffs' Steering Committee
Science and Expert Committee
Internal Defense Subcommittee
Speaker at All-Plaintiffs' Presentations


Doe v. YouTube, Inc. (N.D. Cal.) (class action on behalf of content moderators)

Obtained $4.7 million settlement along with injunctive relief for class of content moderators exposed to graphic content


Opioid Litigation on Behalf of Hospitals (various state courts)

Lead drafter of amended or newly filed complaints in Arizona, Alabama, Florida, New York, New Mexico and Arkansas overseeing team of internal and external attorneys
Collaborated with local appellate counsel on 3 amicus briefs filed before Arizona Supreme Court
Coordinated response with other hospitals to third-party subpoenas from opioid manufacturers
Led research team overseeing factual case development


City of Laurel v. Cintas Corporation No. 2 (D. Nev.) (breach of contract class action)

Defeated motion to compel arbitration at district court and Ninth Circuit


Jackson v. PC Wilshire LLC (La. 14th JDC) (post-hurricane eviction class action)

Pro Bono work on petition and temporary restraining order