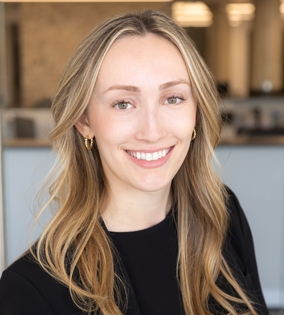 Hannah is a careful and thoughtful attorney whose counsel has been incredibly valuable to us, and I would not hesitate to work with her again.
Lindsey Kurtz
General Counsel, Dominion Voting Systems
Hannah Crowe joined Burns Charest after graduating from Harvard Law School. Hannah represents plaintiffs and businesses in a variety of high-stakes matters and has delivered winning arguments in federal and state courts. She is currently a key member of the litigation team representing hospitals for claims against pharmaceutical manufacturers, distributors, and pharmacies charged with wrongful marketing, distribution, and dispensation of opioids. Hannah also represents several classes of individuals against major websites that allegedly violate state and federal statutes by sharing users' personal and website usage information for targeted advertising purposes. Among other critical successes, Hannah recently argued and won partial summary judgment for her client, a major electronic voting hardware and software company, in a commercial litigation case.
During law school, Hannah was an oralist and quarter finalist in the Ames Moot Court Competition, one of the most prestigious competitions for appellate brief writing and advocacy in the country. A native Texan, Hannah graduated summa cum laude from Rice University and was inducted into Phi Beta Kappa. Prior to law school, Hannah worked for the Boston Consulting Group.
Education
Harvard Law School, J.D.
Rice University, B.A., summa cum laude
Admissions & Honors
State Bar of Texas
U.S. District Court for the Northern District of Texas
U.S. District Court for the Southern District of Texas
U.S. District Court for the Eastern District of Texas
U.S. District Court for the Western District of Texas
U.S. District Court for the District of Colorado
United States Court of Appeals for the Second Circuit
Representative Cases
Florida Health Sciences Center, Inc. et al v. Sackler et al (Broward Cty. Ct.) (opioids litigation)

DCH Health Care Authority, et al v. Purdue, et al (Conecuh Cty. Ct.) (opioids litigation)

Guida v. Gaia, Inc. (D. Colo.) (data privacy litigation)

Fiorentino v. FloSports, Inc. (D. Mass.) (data privacy litigation) – achieved $2.6 million settlement on behalf of subscriber class

Martinez et al v. Rumble, Inc. (M.D. Fla.) (data privacy litigation)

Solomon v. Flipps Media, Inc. (E.D.N.Y) (data privacy litigation)

Red, White, and Blue, Inc. Ltd. v. Dominion Voting Systems Corp. (Collin Cty. Ct.) (commercial litigation) – argued and won summary judgment on behalf of client; achieved favorable settlement shortly thereafter

Altman et al v. Caesars Entertainment, Inc. et al (D.N.J.) (antitrust litigation)

Ahringer et al v. Loandepot, Inc. et al (C.D. Cal.) (data privacy litigation)

Tavantzis v. American Airlines (N.D. Cal.) (catastrophic personal injury litigation)

Old Pine Energy et al v. Burnett Petroleum Company (Jacinto Cty. Ct.) (commerical litigation)