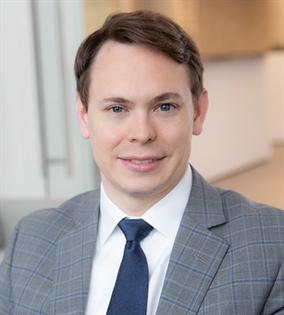 Ryan Gaddis has spent years on the front lines of high-stakes litigation in the oil and gas industry. He brings a sharp eye and an experienced mind to his cases, drawing from his prior work as an in-house landman for a large, Houston-based independent exploration and production company in the Haynesville Shale, SCOOP, and Permian and Delaware Basins.
While at Burns Charest, Ryan has handled a wide variety of energy-related cases, including title disputes, royalty underpayments, lease disputes, surface use disputes, JOA disputes, and breach of contract actions. Driven by a powerful work ethic and attention to detail, Ryan's prior experience gives him a leg up on litigating energy matters and focusing on his client's goals.
In his downtime, Ryan enjoys traveling with his wife Rachel and going on outings with their German Shepherd, Raider.
Education

University of Tulsa College of Law, J.D. (2018) with Highest Honors
Sustainable Energy and Resource Law Certificate
Texas Tech University, B.B.A. in Energy Commerce (2015), magna cum laude
Magistrate T. Lane Wilson, US. District Court for the Northern District of Oklahoma (externship Spring 2017)
Admissions & Honors
Texas
U.S. District Court for the Northern District of Texas
2018-2019 Rocky Mountain Mineral Law Foundation Scholarship Recipient
2018-2019 Association of International Petroleum Negotiators Scholarship Recipient
Executive Editor of the Year—Year in Review 2016 Section of Environment, Energy, and Resources
Articles Editor for the Energy Law Review (2017-2018)
Outstanding 2L for the Energy Law Review (2016-2017)
Lawdragon 500X - The Next Generation, 2023

Publications
Ryan Gaddis, Note, Coyote Lake Ranch, LLC v. City of Lubbock: The Accommodation Doctrine Expanded, 38 Energy L.J. 455 (2017).
Memberships
Texas Bar Association
Dallas Bar Association
Dallas Young Lawyers Association