Burns Charest Partners Instruct at Litigation Boot Camp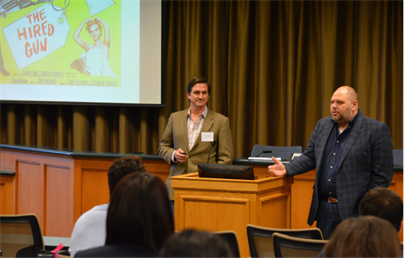 In January 2016, partners Warren Burns and Daniel Charest taught a week-long trial-advocacy course at their alma mater, Tulane Law School. The course, called the Intersession Boot Camp, presents an intensive skills-training experience. Practitioner-teachers, like Burns and Charest, from across the country help students learn skills for the practice of law and for the work they will perform as young litigators. "The boot camp program presents an excellent opportunity for us, not only to help train the next generation of lawyers, but also to connect with other, stellar lawyers and learn from them too," said Daniel Charest.
Both Burns and Charest have supported the project for the past several years by volunteering their time as practitioner-teachers. And they both plan to carry forward that commitment. The Dean of Tulane Law School, David Meyer, commented on the program and their involvement: "One of the most remarkable features of the boot camp is the extraordinary quality of the lawyers and judges teaching in the program. Students have the opportunity to learn the ropes of law practice and to develop strategic judgment in representing a client through intensive mentoring from some of the country's top trial lawyers and corporate counsel. Dan Charest's and Warren Burns' dedication in sharing their talents and insights with the next generation of leading lawyers is an exceptional gift to our students."
The Boot Camp program has won Tulane Law School recognition as one of the nation's 20 Most Innovative Law Schools by National Jurist magazine. Burns Charest LLP proudly supports Tulane Law School, its faculty, and its students.