$52M Settlement with Facebook Named in Texas Lawbook's Top 10 Commercial Litigation Moments of 2020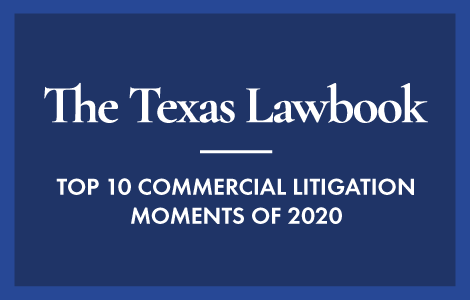 The historic class action settlement reached by Burns Charest attorneys on behalf of Facebook content moderators is listed among the "Top 10 Commercial Litigation Moments of 2020" by The Texas Lawbook.
The influential online legal publication noted that "the May 2020 settlement came during a year…when the public became even more painfully aware of the harm that social media can play in the psychological fabric of people's everyday lives. This case made it apparent that social media workers are not immune to that psychological harm either."
In the class action filed in California Superior Court, Burns Charest represented content moderators who worked for Facebook vendors and were responsible for reviewing disturbing, graphic content for the social media giant. According to the complaint, content moderators were required to view, as a filtration mechanism, posts containing "videos, images and livestreamed broadcasts of child sexual abuse, rape, torture, bestiality, beheadings, suicide and murder," as part of their duties.
The $52 million settlement included financial compensation to each member of the class as well as funds to cover past and future medical treatment resulting from PTSD and similar diagnoses. The settlement has been recognized as the first of its kind in a new area of the law.
The Burns Charest lawyers involved were Daniel Charest, Korey Nelson, Lydia Wright, Rick Yelton, and Patrick Murphree.
The complete password-protected article is available here.